Microblading Aftercare Instructions
The microblading process is similar to a brow tattoo, in which there is an aftercare period during which strict guidelines must be followed. It takes time for your skin to heal and most clients experience patchy areas or fading after their first treatment. As microblading is a two-part procedure, the second touch-up treatment will complete the procedure, and, after healing, you will see the finished result. 
Please read all aftercare instructions on this page to make sure you are committed to this brow journey, especially the first 10 days. Your brows' healing outcome is greatly influenced by the way you care for them.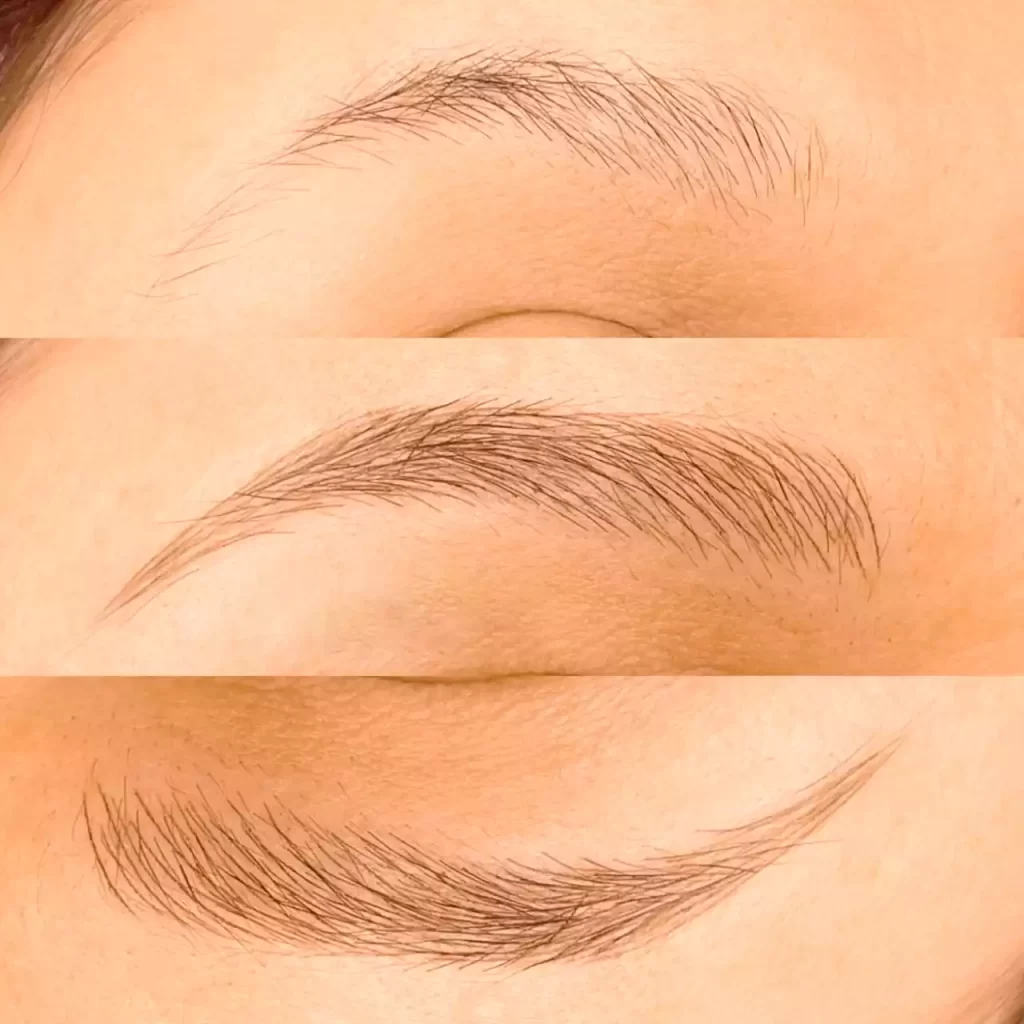 NO MOISTURE! NO WATER! NO SWEAT! NO SUN! For 10 days.
A "Do Nothing" or "Dry Healing" method produces the best results. You will get the best results if you keep your brows extremely DRY for the next 10 days! You can preserve more detail, color, and crispness by keeping them dry. Although it sounds tricky, it is possible if you are mindful.
During the first 48 hours, clean your eyebrows 2-3 times with fragrance-free baby wipes.

Vaseline

should only be used when your eyebrows feel tight or dry. The layer should be applied in one direction very thinly. That's it for the next 10 days!
Wash your hair carefully and keep your face as dry as possible while keeping your face out of the shower stream. In case they get wet, have clean, dry paper towels on hand to pat them dry. In addition, keep showers brief, since too much steam can damage brows. Hair and eyebrows can be covered by shower caps if you like.
Whenever you wash your face, avoid splashing water on it like we normally do. Use a paper towel or fragrance-free baby wipes to soak the brows AROUND the brows, making sure they remain dry and clean.
Wait at least 10 days before applying any cosmetics to your brows. The result will be damaged and ruined. You need to be patient!
During the first 10 days following the procedure, you should avoid heavy exercise and sweating. This is crucial if you want to retain color and detail.
It should not take more than 10 days for you to be able to wash your face normally, including your brows, with a gentle face wash like Cetaphil.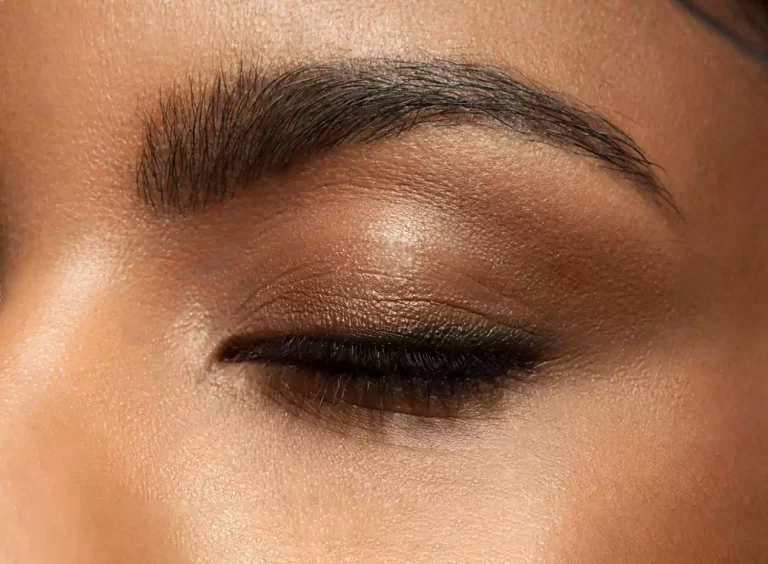 permanent makeup proud portfolio
DURING THE FIRST 10 DAYS, AVOID:
Creams of all kinds 
Makeup (foundation) around the eyebrow area
Exercises that cause a lot of sweating
Sauna
Massage and steaming of the face – inhalation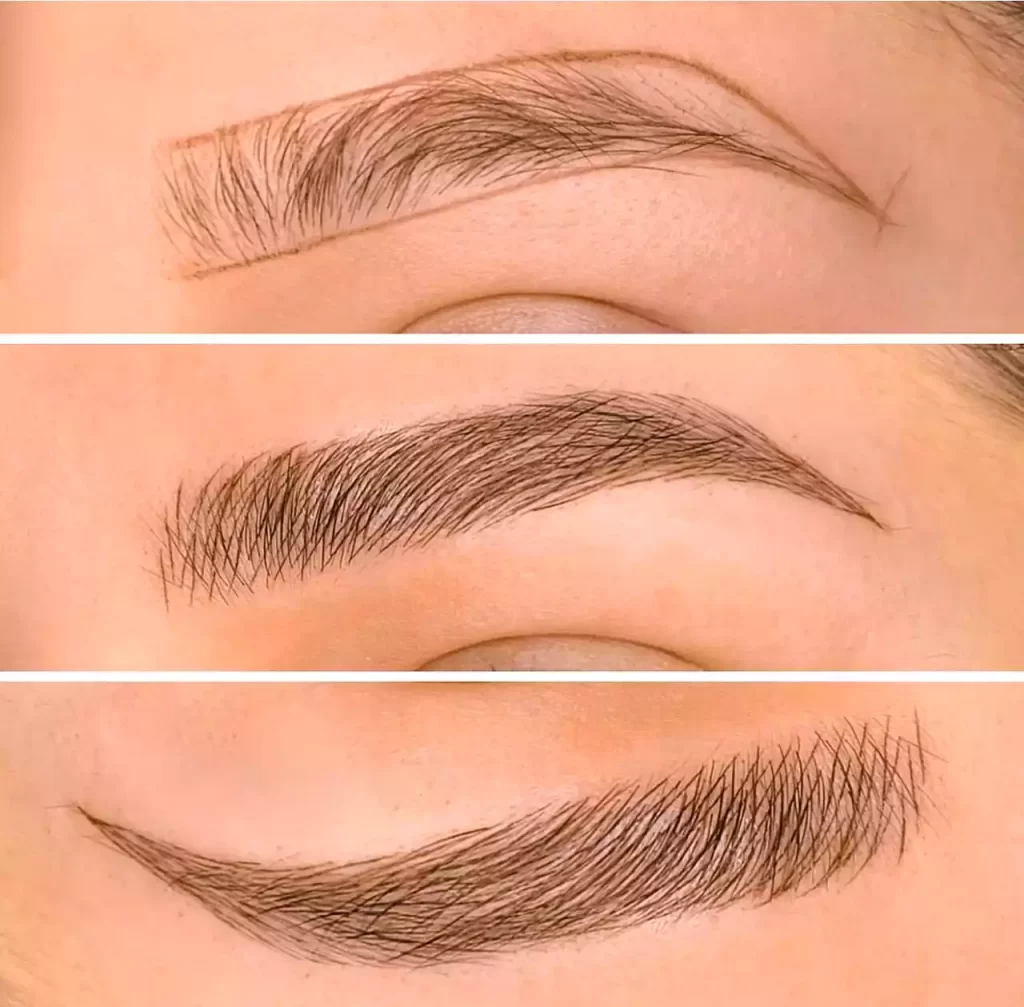 IN THE NEXT 30 DAYS, PLEASE AVOID:
Taking a sunbath
Using a solarium
Light therapies
AHAs, BHAs, chemical peelings
Fruit acids
Microdermabrasion
Creams that contain regeneration factors
Treatment with lasers over the treated area (e.g. Fraxel Laser, IPL) – because they can destroy the pigment and cause burns
Treatment with antibiotics and hormones.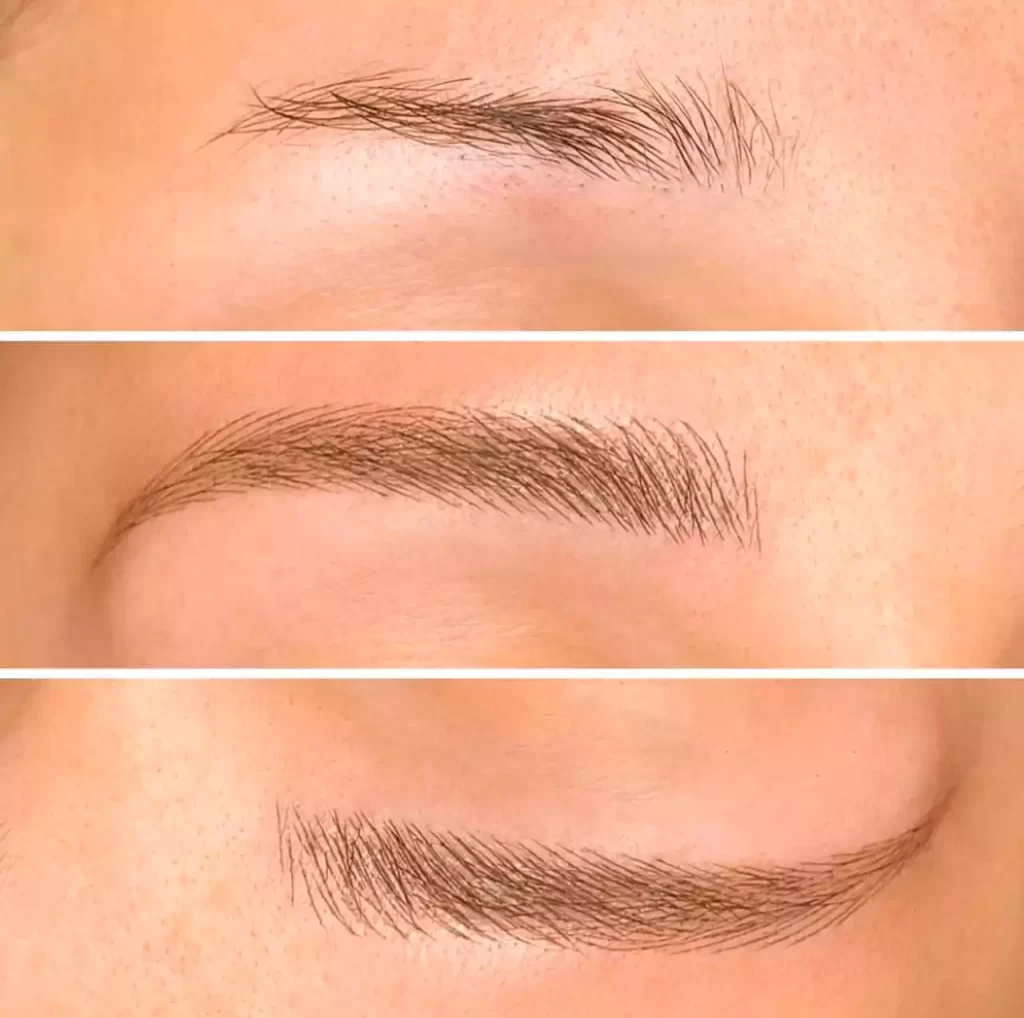 WHAT TO EXPECT AFTER MICROBLADING
You will notice that the tattooed area appears darker and bolder in color, more sharply defined, or even more filled in after your procedure. Healing can take up to a week after the treatment.
Scabs, flaking, or peeling of the skin may occur during the initial healing phase. Scabs or dry skin should be allowed to come off naturally rather than picked. This is very important! Scabs that come off prematurely will lose their pigment!
It takes between 4-6 weeks for the tattoo to heal completely, at which point the true color becomes apparent. Your tattoo will become softer and lighter during this process. Even if you think there is too much color loss, your skin is still regenerating and naturally exfoliating.
MICROBLADING HEALING PROCESS
A MICROBLADED BROW GOES THROUGH MULTIPLE PHASES WHILE HEALING!
Day 1 – very little to no redness, finely detailed
Day 2-4 – They become darker and more filled-in looking as they form a light protective layer or scab. This is only temporary- don't panic!
Day 5-12– the protective layer naturally exfoliates, peels and flakes away over the course of several days as your skin heals underneath it. The freshly healed skin is white and has a waxy coating, making it appear that the brows are too light. Be patient!
Day 10-30 – After 10 days you may use brow makeup very gently if you need it. The color will slowly come back to life and bloom back to the surface as that new, white skin settles in and heals. Wait at least 4 weeks to see the true color, as it will take on new strength. Your second appointment is to tighten up your shape, touch up any light spots, and also to assess how your skin reacts to the process and the chosen color.
This is a two-step process. The brows look really finished after the 2nd appointment. 
WHAT NOT TO DO AFTER MICROBLADING
You may shower or bathe normally, but avoid getting any harsh soaps, shampoos, or water on them as this can be detrimental to the bonding process that must take place for the pigment to stabilize in the dermis.
DO NOT pick or scratch at the dry skin/flakiness; let the skin fall off naturally. Picking can cause scarring and premature loss of pigment. IMPORTANT: Once the flakes have fallen off, a shiny layer of healing skin will completely cover the hair strokes. It may appear as though the tattooed area has completely disappeared. This is just new skin forming. Within 1-2 weeks, the hair strokes will slowly reappear at a lighter shade as your skin regenerates.
DO NOT apply make-up to the tattooed area for the first 10 days. Cosmetics of any kind may interfere with the healing and color of your tattoo. After 10 days it's fine if you need to gently apply makeup to any light spots.
DO NOT bleach, tint or dye the tattooed area for one month following the procedure.
DO NOT apply any anti-acne products (e.g. Benzoyl Peroxide, Salicylic Acid, Proactiv, etc.) or lightening creams (skin bleaching creams) such as hydroquinone to the treated area while healing.
No anti-aging products or facial products containing Alpha Hydroxyls (AHAs), Retin-A, Lactic or Glycolic Acids
Do not thread, wax, or use hair removal products on the treated area while healing. You may after 3-4 weeks.
NO exercising and/or excessive sweating one day prior to getting tattooed and for 10 days after. Heavy sweating will cause the hair strokes to blur and detail to be lost.
NO Sun exposure, swimming pools, jacuzzis, saunas, or other bodies of water for two weeks.
Do not soak your face underwater in a bathtub or allow the shower to spray directly on your face for two weeks.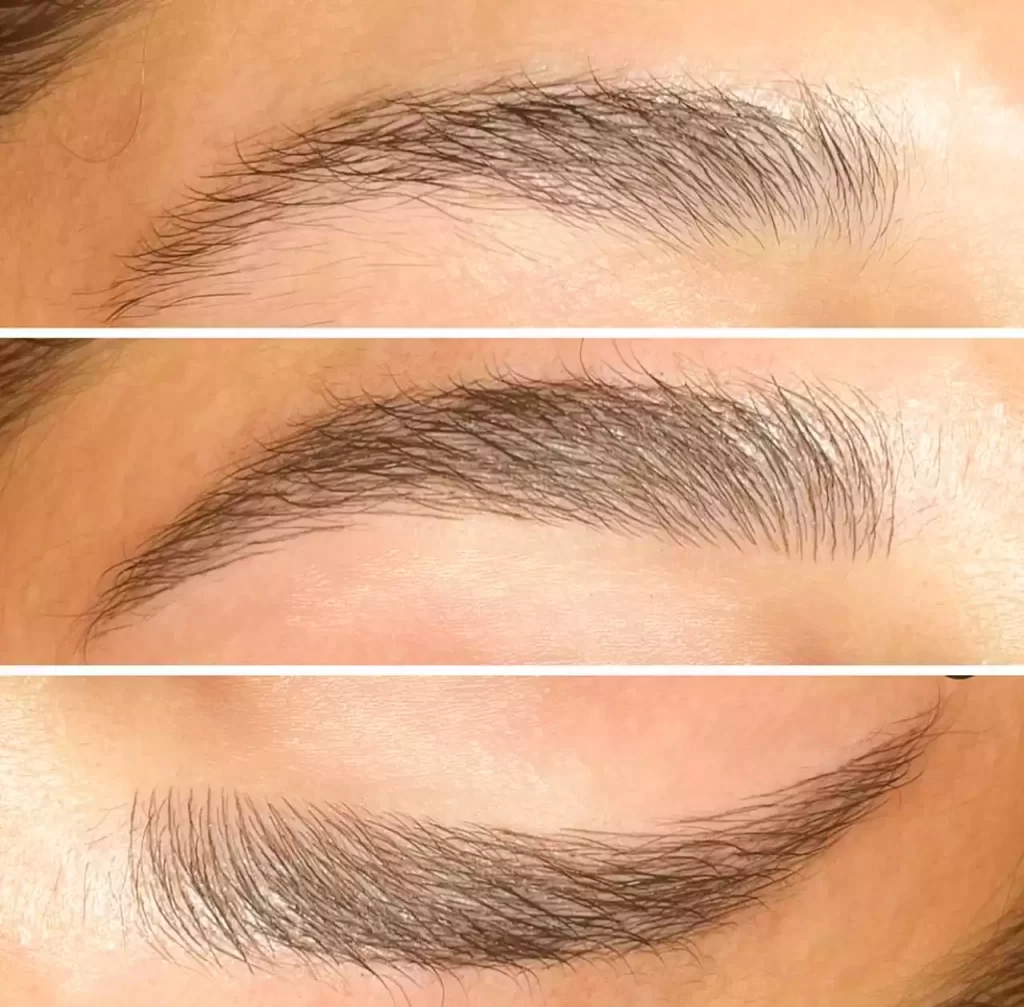 Exposure to the sun over time can cause fading and discoloration of the pigment. Once completely healed, we recommend applying sunscreen daily on the treated area. Wear large sunglasses and a hat for further protection. Rinse and dry the area thoroughly when in contact with chlorine.
Glycolic acid, retinol, AHA's, anti-aging lotions and serums, microdermabrasion, chemical face peels, and laser treatments must be kept away from the tattooed area as continued use could lighten or discolor the pigment.
If you are having laser resurfacing or laser hair removal after your tattoo has healed, please inform the laser technician. Continue at your own discretion. Laser procedures may darken, lighten, or discolor the tattooed area.
Once the treated area is completely healed, any changes or additions that need to be made can be done at your follow-up appointment no sooner than 6-8 weeks later. It takes about 4 weeks for the brow area's skin cells to completely regenerate and settle in.
There are no implied or written guarantees if you do not take care of

your tattoo

, and everyone will heal a little differently.