Your Path to Perfect Brows: A Comprehensive Guide to Eyebrow Microblading and Semi-Permanent Tattoos
Welcome, beauty enthusiasts! Have you ever wondered how your favorite celebrities manage to sport perfect eyebrows all the time? Here's their secret – Eyebrow Microblading and Semi-Permanent Tattoos. Today, we're here to be your guiding light, leading you through this intricate world of beauty, one detail at a time.
The Fascinating Realm of Eyebrow Microblading: What It Is and Why You'll Love It
Think of Eyebrow Microblading as the stroke of an artist's brush on your brows. This semi-permanent tattoo procedure uses precise, custom strokes to create the illusion of natural eyebrow hair. From mimicking your hair color to matching the unique growth pattern of your brows, this is all about customization.
Unsure about what brow shape would suit you the best? Our Eyebrow Shape Guide has you covered.
The Allure of Semi-Permanent Tattoos: An Artistic Revolution
Semi-permanent tattoos are for those who believe in the beauty of change. These tattoos give you the freedom to experience the allure of ink without committing for a lifetime. The secret lies in the vegetable-based ink and the shallower penetration that allows the tattoos to fade away naturally in 1-2 years.
The Journey of Eyebrow Microblading: A Step-by-Step Voyage
Embark with us on this exciting journey to achieving the brows of your dreams:
Consultation: This is your first step to transformation. Discuss your vision with our certified microblading artist who will guide you through a tailored solution just for you.

Outline and Measurement: Your artist will expertly design your brows using specialized tools to complement your facial structure.

Numbing the Area: With a special numbing cream, we ensure a comfortable and pain-free experience.

Microblading: Watch the magic unfold as your artist crafts each stroke on your brows.

Aftercare: We'll provide you with detailed aftercare instructions to keep your brows looking fabulous for longer.
Discover more about the process in our detailed Microblading Guide.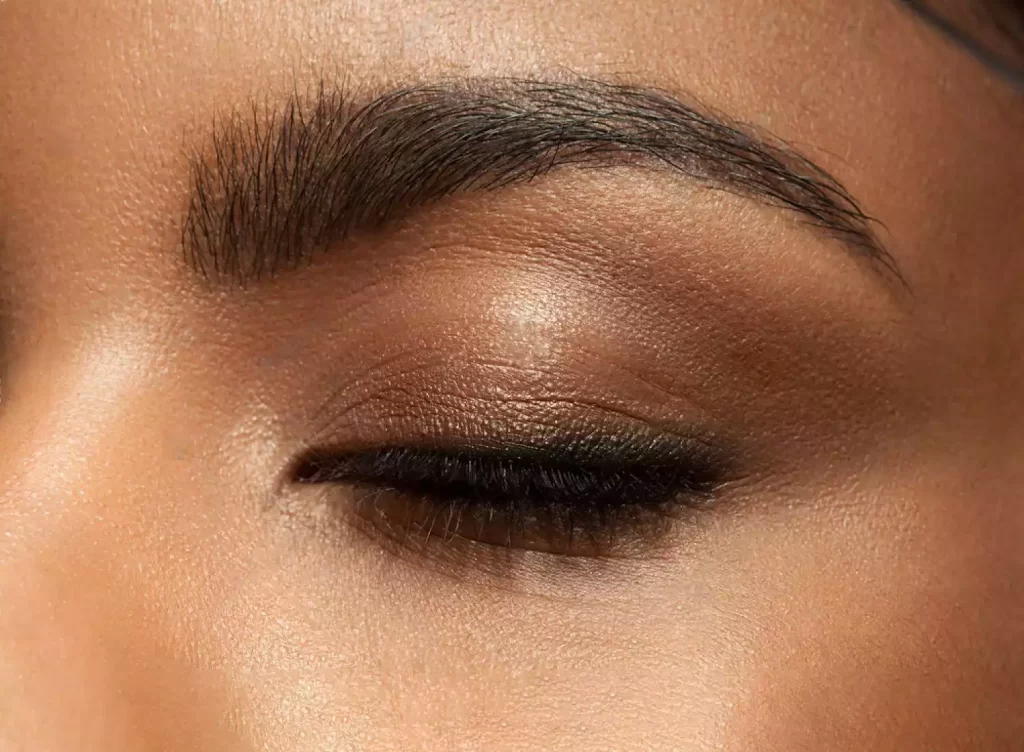 permanent makeup proud portfolio
The Yin and Yang of Microblading
Like all things in life, Microblading comes with its own set of pros and cons:
Pros:
Designed to complement your unique facial features
Say goodbye to daily eyebrow makeup
Enjoy the beauty of long-lasting brows
Cons:
May require occasional touch-ups
Not suitable for certain skin types
Comes with a healing period
Preserving Your Microbladed Brows: The Secret of Aftercare
Protect the beauty of your new brows with our aftercare tips:
Keep water away from the treated area for a week
Apply a healing balm as recommended
Shield your brows from the sun
Unsure how to manage it all? Check out our Aftercare Guide.
Picking Your Microblading Artist: Your Partner in Beauty
When seeking the perfect microblading artist, consider their certification, portfolio, and client reviews. The right professional will help you achieve brows that perfectly frame your face and enhance your natural beauty.
Your journey to attaining flawless, semi-permanent brows starts here. With our comprehensive guide, we hope you're better equipped to step into the world of eyebrow microblading and semi-permanent tattoos with confidence and poise.